So, at my appointment today she said to discontinue chiropractic care and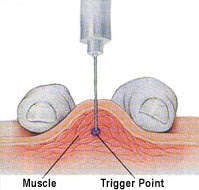 she went ahead and gave me two trigger point injections. She put some type of medicine in addition to what is usually in the injections. She said that my muscles were hard as rocks, "quite impressive," was the term she used. She compared them to what Arnold Schwarzenegger's would feel like, but mine of course isn't good. The trigger point injections should start working in about two days. She also gave me a new prescription for an anti inflammatory/pain killer, and something else to take before bed so I can get good solid sleep (my husband has been telling me that I'm frequently waking up in pain and complaining about it.
The doctor is also having a cervical decompressor thing ordered for me. I'm not sure what it is, but I guess I wear it and then pump it to stretch my spine out. She thinks that it might help since nothing else is. The rep for the company is going to call and I'll meet her somewhere so she can show me how to use it.
I'm really not sure what else I can do. My back/shoulders are super sore now from the injections. I'm also getting a massage tomorrow as well. I have a membership to massage envy and I have extra massages so I'm going to try and go every week to every other week. Maybe it will help? I'm also doing stretching exercises at home.
- Posted using BlogPress from my iPad